Colour E27 (Clean Edition)
Regular price

$89.99

Sale price

$89.99

Unit price

per
Specifications

Brightness: 1200 Lumens
Colour rendering index (CRI): 80
Wattage Use: 11.5W at full brightness
Wattage Eq: 80W Incandescent
Wattage on Standby: Less than 0.5W
Voltage Range: AC 100-240V 50/60 Hz
Colour Temperature: 1500K to 9000K
Beam Angle: 135°
Dimming: Software dimming 1% -100%
Wi-Fi: 2.4GHz
Security: WPA, WPA2
Dims: 63 mm x 63 mm x 116 mm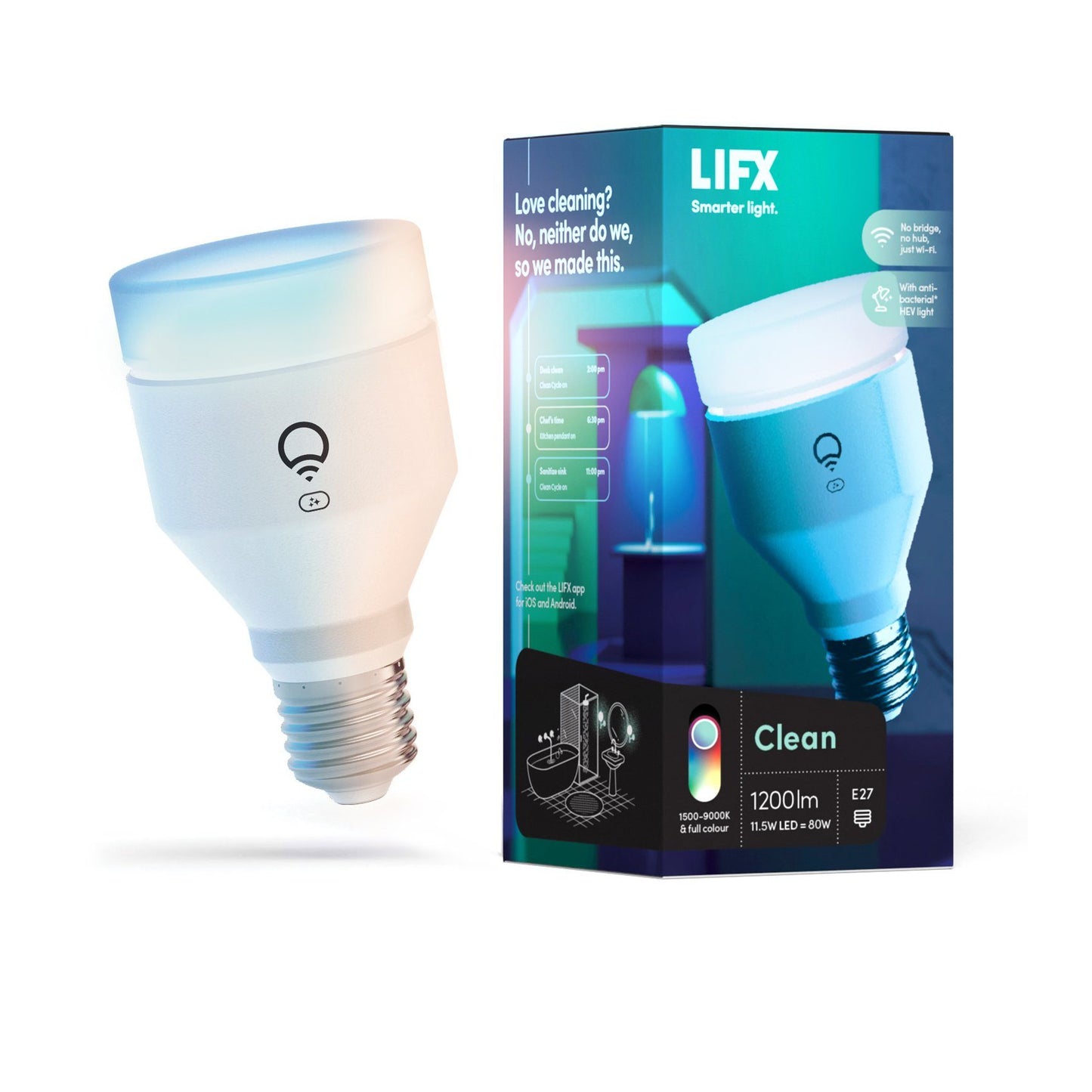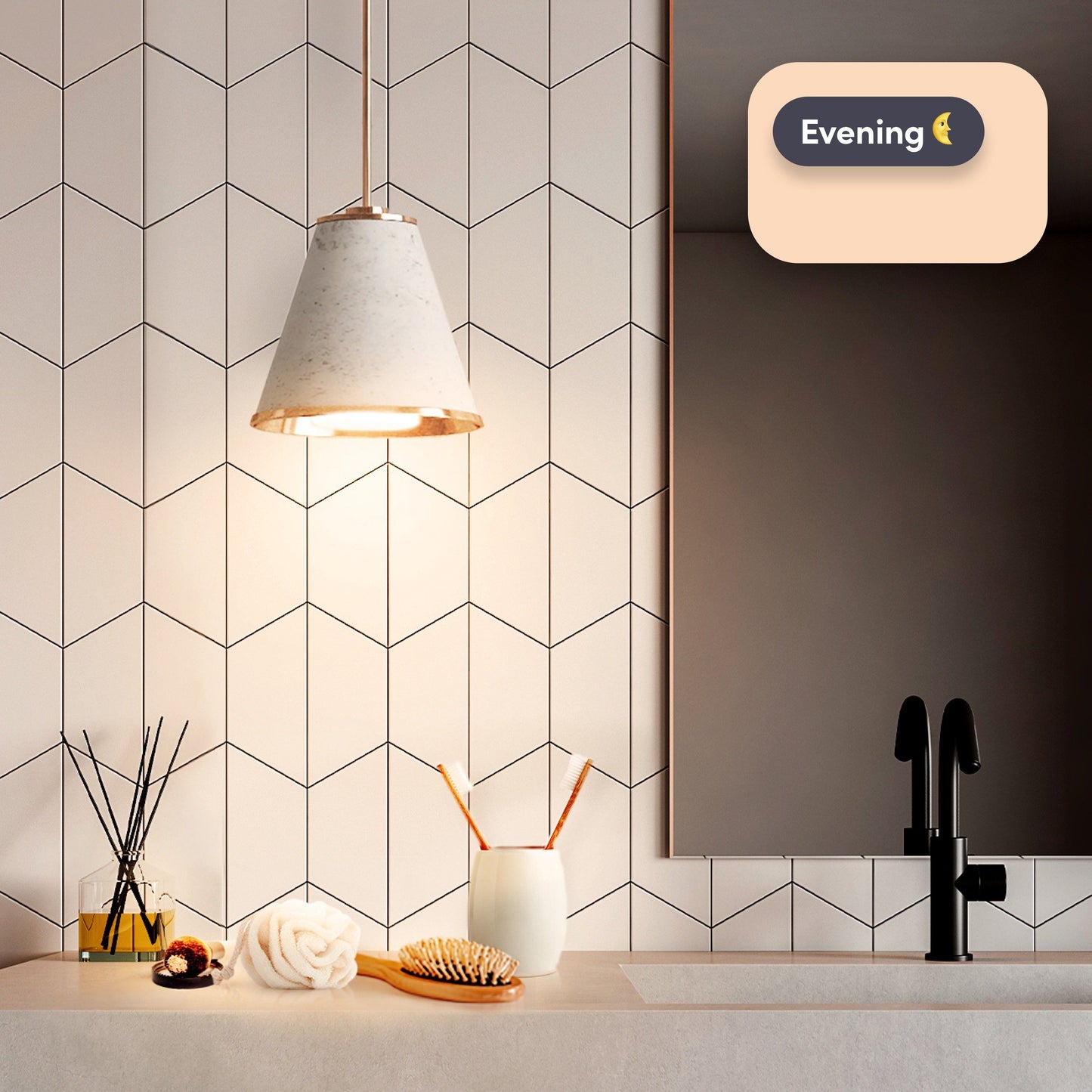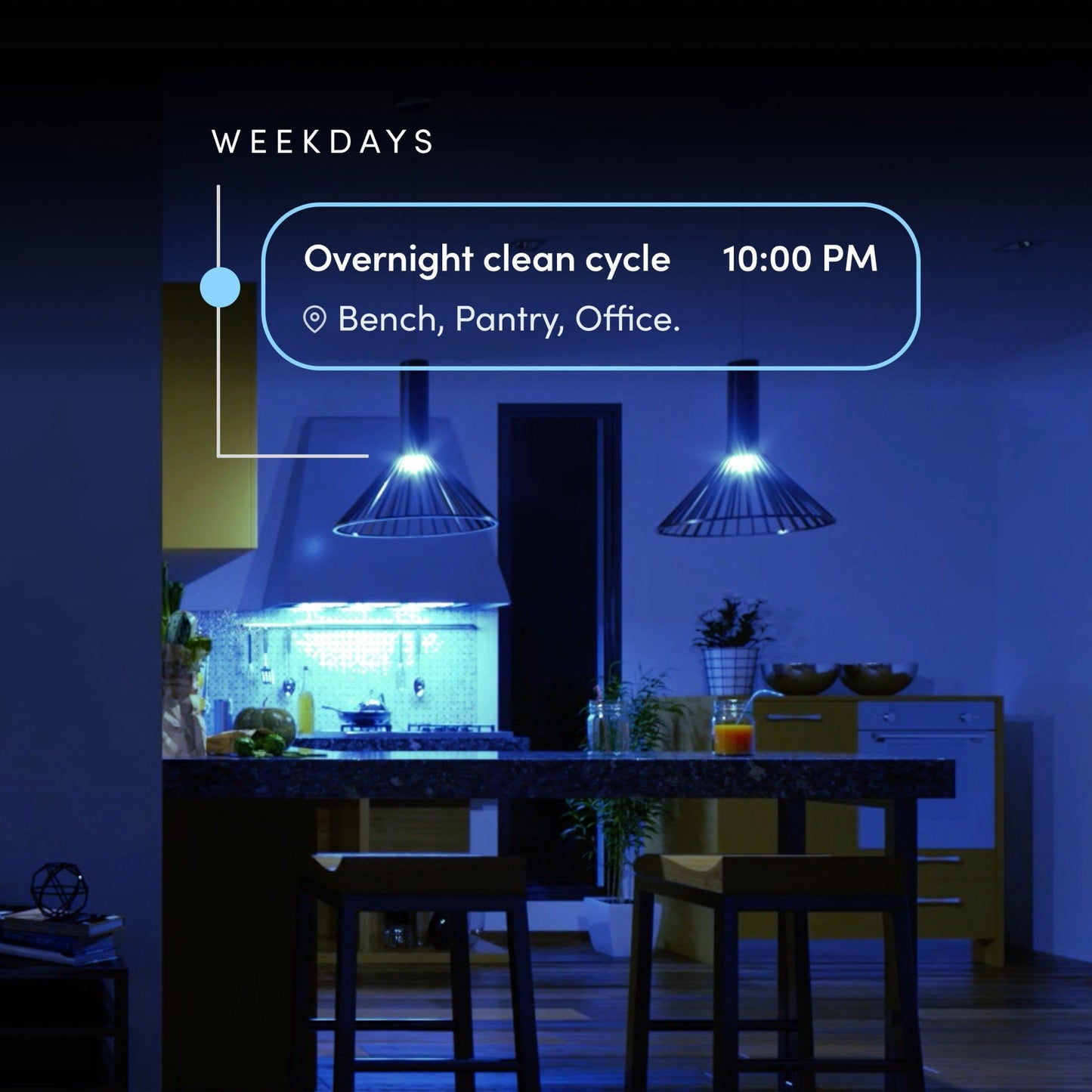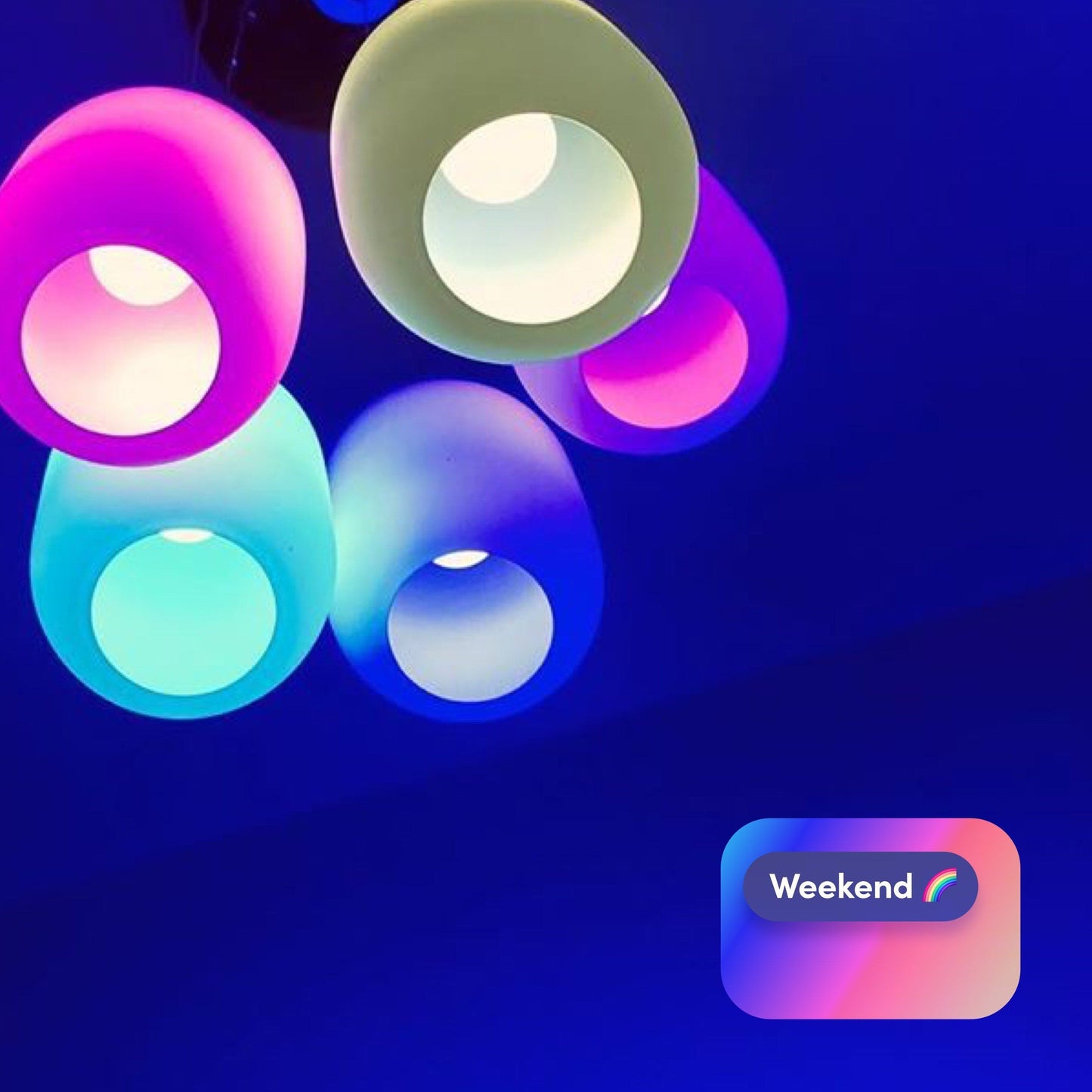 A light so smart we taught it how to clean.
Let's be honest, manual cleaning is a drag. Which is why we made LIFX Clean. By using our app to schedule a Clean Cycle, LIFX Clean can make your daily routine a bit more automatic. Without lifting a finger, wipe out E. coli and S. aureus on your bacteria-ridden phones, controllers, kitchen counters, bathroom sinks and more.
Smart light by day, germ buster by night.
Schedule it to wake you softly in the morning, illuminate your work space throughout the afternoon, and then help you doze off before bed. At night, schedule LIFX Clean to turn on, eliminate bacteria* with HEV light, and then turn off when it's complete.

*LIFX Clean can help eliminate over 90% of S. aureus and E. coli on surfaces depending on the distance and time.
Wipe out bacteria without lifting a finger.
Program a Clean Cycle to run your disinfection session automatically. Use LIFX Clean in a desk lamp over everyday objects like your cell phone, keyboard, or gaming controller for close-range disinfection with a quicker Clean Cycle. Or, put your bulb in a larger lamp or hanging pendant to reduce germs on surfaces like your kitchen counter or bathroom sink for a broader disinfection with a longer runtime.
Is it really smart if it isn't safe?

LIFX Clean uses high-energy visible (HEV) wavelengths to disinfect your home, meaning it's UV-free. Why? Because even though UV lighting is effective for disinfection, it's not safe for you or your household. UV wavelengths are dangerous to human eyes and skin, it can seriously harm your pets and plants, and can even cause the paintings on your walls to fade. On the smarter side of things, HEV is both germicidal and safe for use in the presence of people, pets, plants and paintings.

An entire cleaning routine is just two clicks away.

Finding the time to clean your home is half the burden. But with just two clicks in our app, you can scheduled a daily Clean Cycle, which is the time and duration your LIFX Clean switches to HEV light and wipes out bacteria. Simply click on the Clean icon in the top right corner of your app, then press "Activate" to set and forget an entire cleaning routine, and get back to the more important things in your day.
Hey Google, Alexa, Siri...
Ask Google to control smart devices in your home. No matter where you are, get things done – whenever you want.

"Hey Google, dim the living room lights and turn on Netflix."

LIFX works with Amazon Alexa products to control your lights with your voice. No need to unlock your phone and open the app.

"Alexa... Set the living room to warm white."

Turn your iPhone into a universal remote for your smart home with Apple HomeKit.

Say "Siri, I'm home," and have HomeKit unlock your door and set your LIFX lighting to your favourite scene.
Testimonials & Awards
LIFX smart bulbs deliver excellent smart lighting

"They're really very good as smart bulbs, nailing the colour aspect perfectly, responding well to commands, and tying in neatly to your choice of smart assistant. The app offers one-touch control of your connected lights, and some very detailed control deeper down, and everything's easy to set up and get running."
Read more

Best color-changing smart bulb

"Like I said, I think Lifx lights belong right at the top of your list if you're looking to add a smart pop of color to your home's lighting systems. The brand sells a variety of bulbs and smart lights that all put out bright, great-looking colors, all of which can connect with Alexa, Siri or Google Assistant with absolutely no need for a hub."




LIFX smart bulbs deliver excellent smart lighting

"LIFX offers a plethora of smart light options; from color and white bulbs, that come both in full size and the more compact LIFX Mini design, as well as lightstrips, LIFX Beam - the brands own take on smart light wall art and LIFX Clean - a smart light that can also kill bacteria."