Smart Switch Black 4 Button
Regular price

$129.99

Sale price

$129.99

Unit price

per
Specifications

Installation: Professional installation required by a licensed electrician
Neutral Wire: Required
Safety Notice: Electrical power must be cut off before installation/repair
Maximum load: 2500W per switch. 2-Gang: 1250W per gang. 4-Gang: 625W per gang.
Dims: 120mm x 72mm x 37mm
Installation Guide: 2 Gang, 4 Gang
Voltage Range: AC 100-240V 50/60 Hz
Wi-Fi: 2.4GHz
Security: WPA, WPA2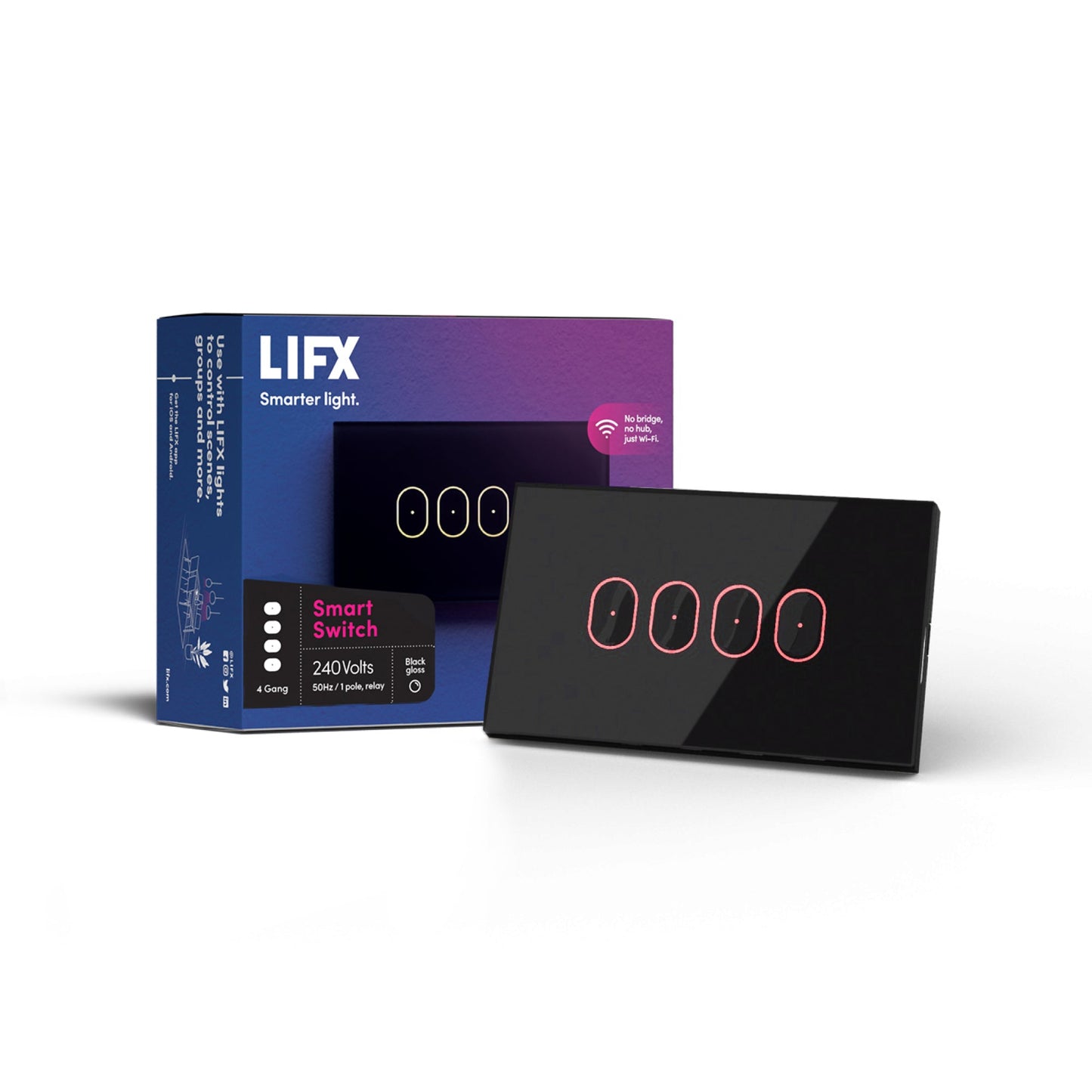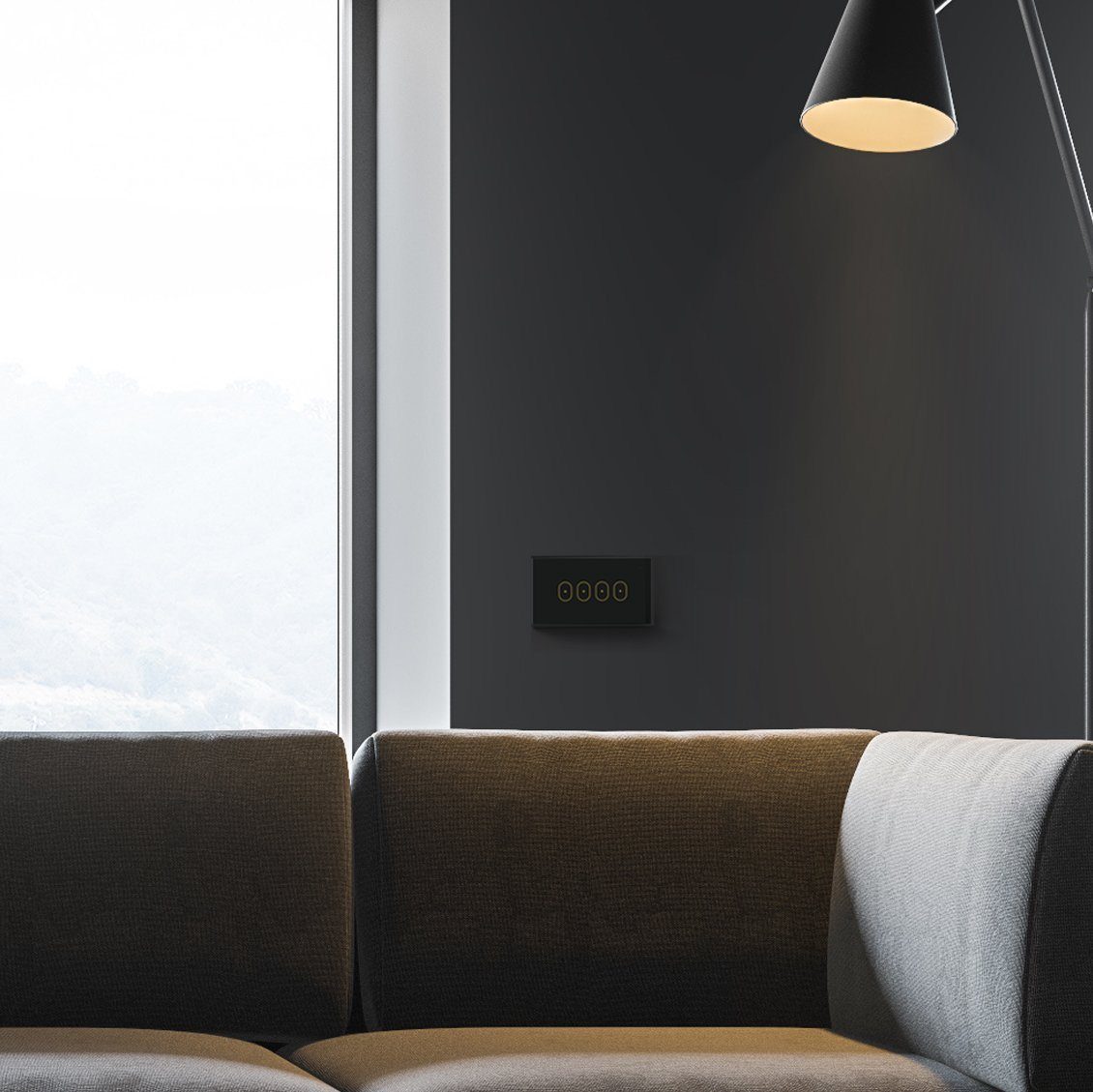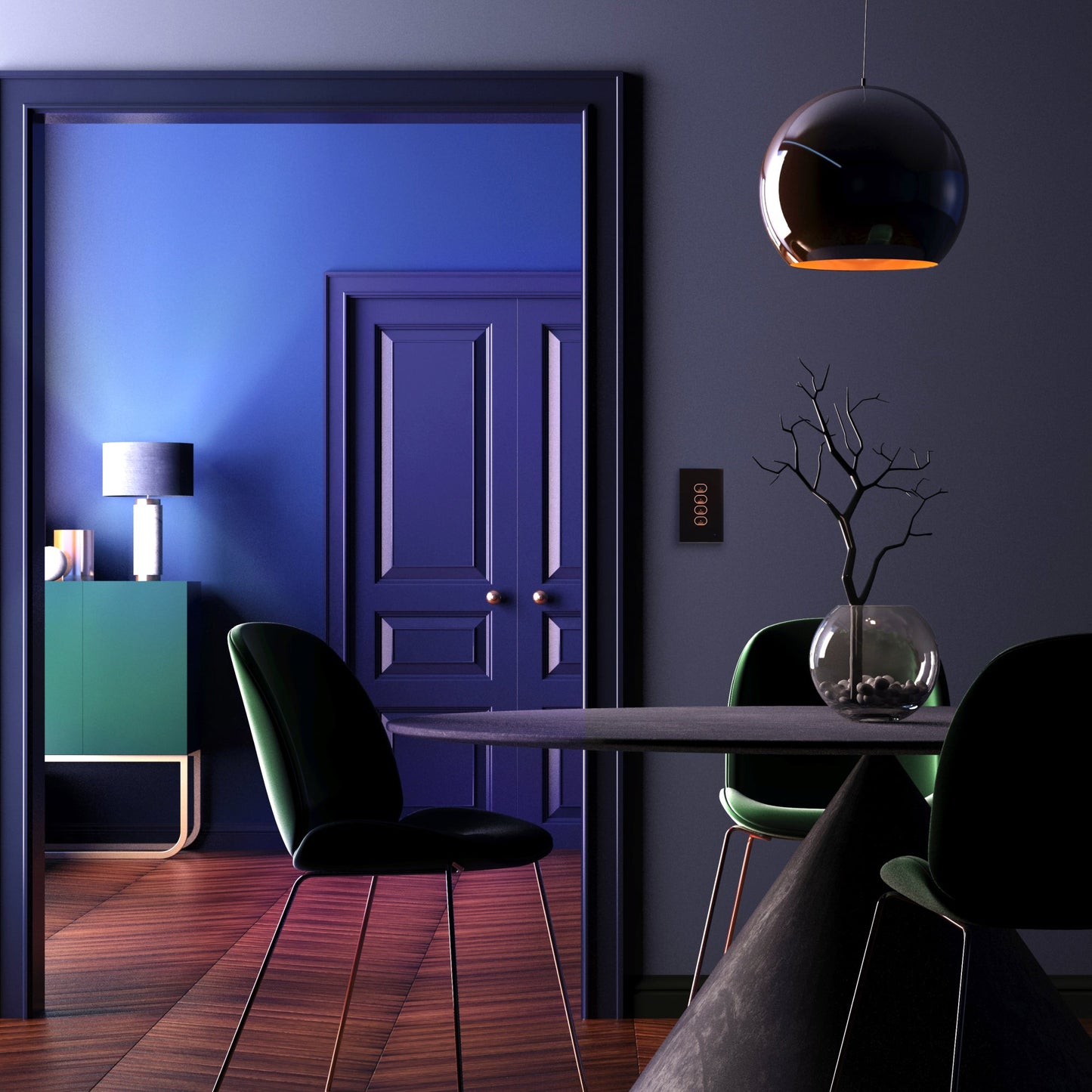 Meet Smart Switch
Combining a modern finish with haptic feedback, the LIFX Switch is meant for daily use and is easily programmable in the LIFX app. Use the buttons on the Switch to trigger a lighting scene, dim smart lights, and of course turn off and on whilst always remaining in standby.

This is an in-wall switch that requires professional installation (as per Australian law) with a neutral wire is required. Do it once, do it well please folks.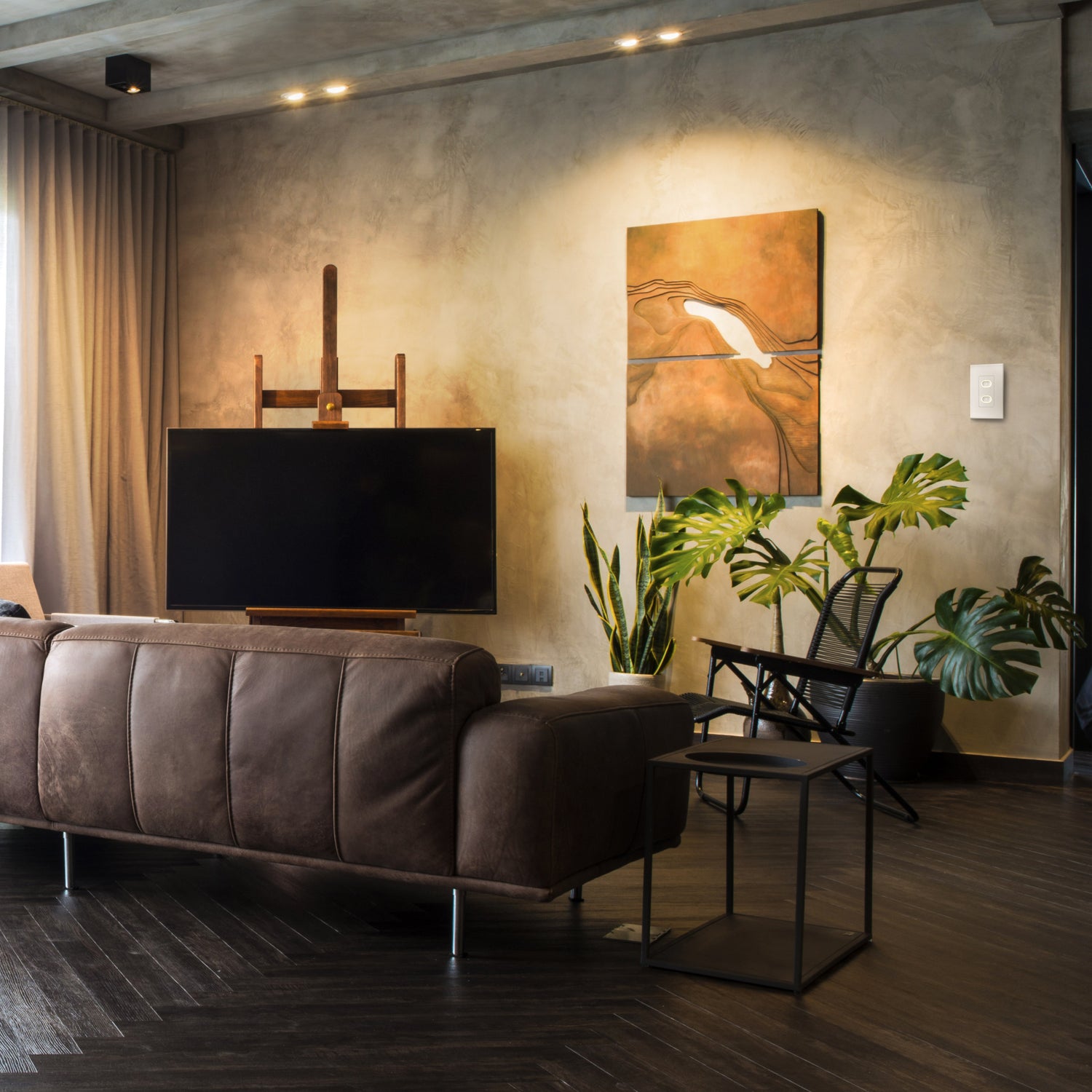 Don't sacrifice beauty for brains
With LIFX Smart Switch, you can have it all – beauty and brains. Keep your home looking and feeling elevated with advanced smart tech capabilities as well as quality aesthetic and design. Available in white or black finishes.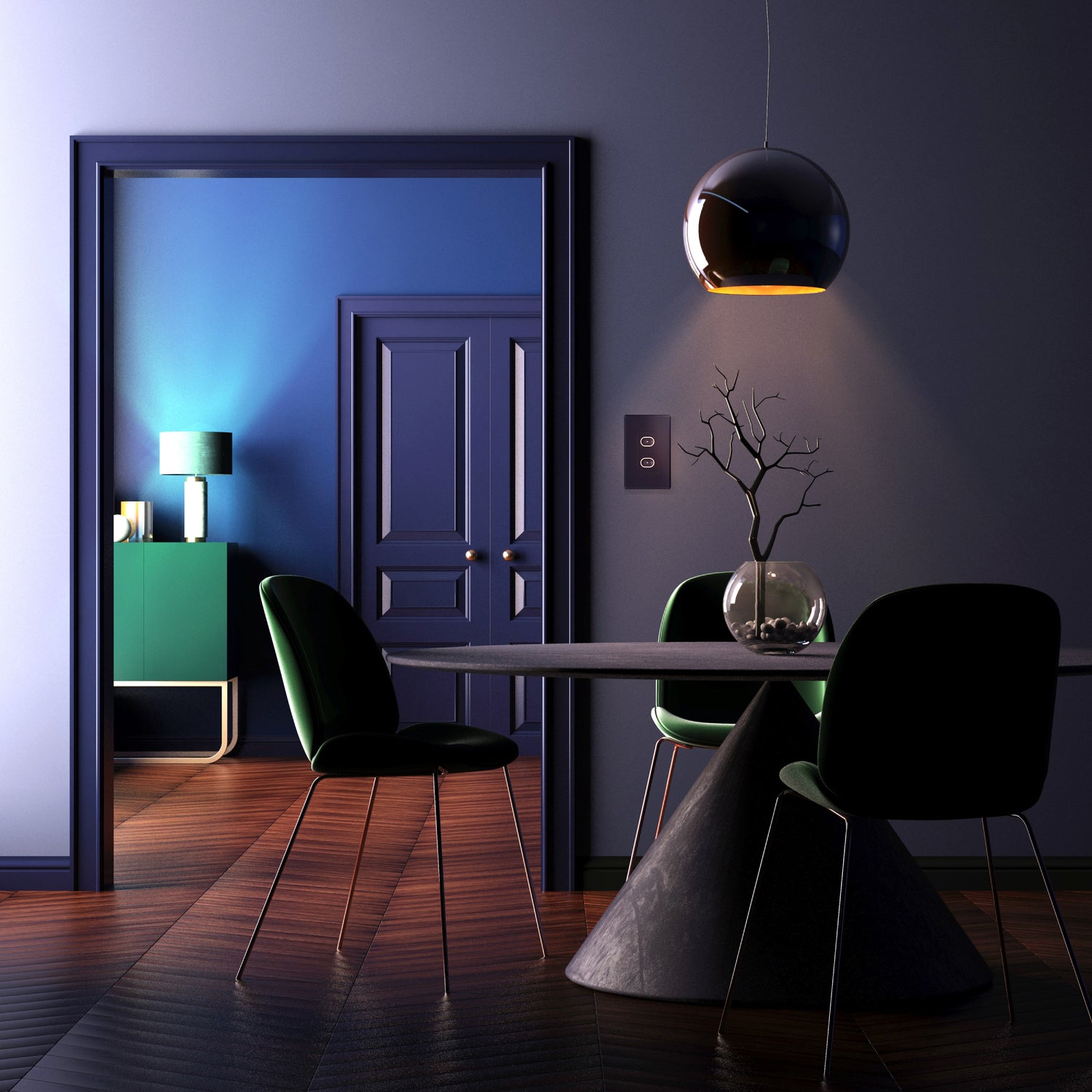 On or off, stay connected
LIFX Smart Switch keeps your lights in standby mode instead of fully cutting the power source. That means your lights will stay connected, allowing for constant control whether they're on or off.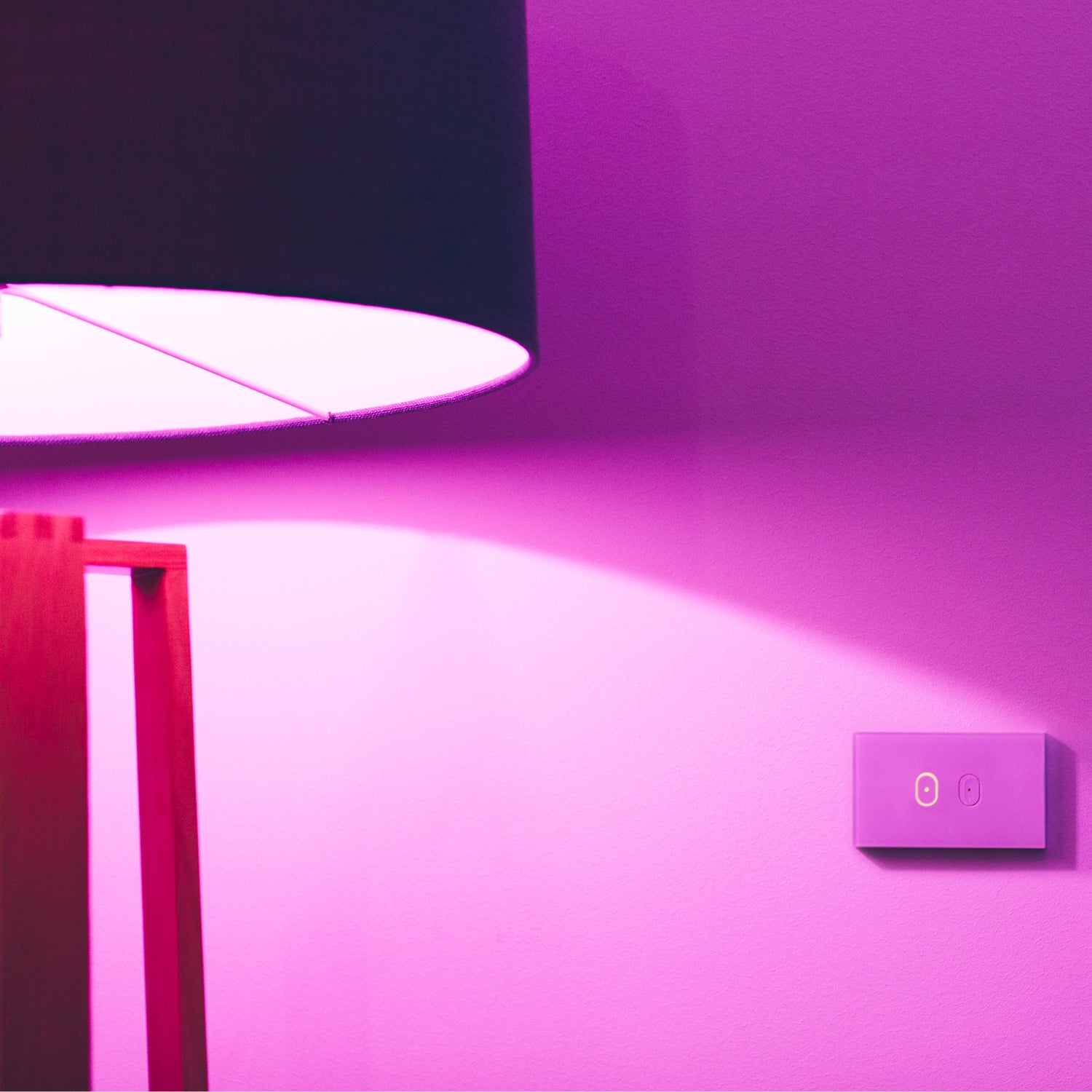 Set the scene
Each button could correspond to different custom scenes you have created in the app. With simple taps on the switch you can change the whole room from date-night lighting to movietime, and then to bedtime.
Personalise and fine-tune your Switches.
You can set up your switches to suit you.
✅   Customise the backlight brightness
✅   Set you own unique backlight colours
✅   Tune the haptic 'vibration' strength for the right level of non-visual feedback for your home.
Home Automation

Pair with an Apple TV, HomePod or iPad for full HomeKit automation via the Apple Home app.

Add single, double and long press functionality to you LIFX Smart Switches for greater control.

Speakers & Soundbars

Sync your LIFX Smart Switch with your Sonos, Bose or other HomeKit compatible speaker to play, shuffle and listen to your favourite music and podcasts on Apple Music.

Garage Doors and Locks

Connect your LIFX Smart Switch with HomeKit enabled garage door opener and door locks.

Control locking and other functions at the touch of your light switch as you come and go from your home.
Hey Google, Alexa, Siri...
Ask Google to control smart devices in your home. No matter where you are, get things done – whenever you want.

"Hey Google, dim the living room lights and turn on Netflix."

LIFX works with Amazon Alexa products to control your lights with your voice. No need to unlock your phone and open the app.

"Alexa... Set the living room to warm white."

Turn your iPhone into a universal remote for your smart home with Apple HomeKit.

Say "Siri, I'm home," and have HomeKit unlock your door and set your LIFX lighting to your favourite scene.

* Coming soon to LIFX Switch.
Testimonials & Awards
LIFX smart bulbs deliver excellent smart lighting

"They're really very good as smart bulbs, nailing the colour aspect perfectly, responding well to commands, and tying in neatly to your choice of smart assistant. The app offers one-touch control of your connected lights, and some very detailed control deeper down, and everything's easy to set up and get running."
Read more

Best color-changing smart bulb

"Like I said, I think Lifx lights belong right at the top of your list if you're looking to add a smart pop of color to your home's lighting systems. The brand sells a variety of bulbs and smart lights that all put out bright, great-looking colors, all of which can connect with Alexa, Siri or Google Assistant with absolutely no need for a hub."




LIFX smart bulbs deliver excellent smart lighting

"LIFX offers a plethora of smart light options; from color and white bulbs, that come both in full size and the more compact LIFX Mini design, as well as lightstrips, LIFX Beam - the brands own take on smart light wall art and LIFX Clean - a smart light that can also kill bacteria."
FAQs
Q. Can I install these switches myself?
A. No, LIFX Switch requires installation by a licensed electrician.
Q. Can I replace any existing switch with them?
A. Not all switch wiring types are compatible, they require existing neutral wiring. Check with an electrician as to what type you have. If you're planning on a new build or renovation, request this type of wiring.
Q. Are these switches for outdoor use?
A. No, LIFX Switch is intended for indoor use only.
Q. Are other LIFX devices required to use the switch?
A. No
Q. Can the switch control a group of LIFX lights?
A. Yes
Q. Can the switch control a group of traditional lights (not smart)?
A. Yes, the switch can control both LIFX Smart lights and traditional non-smart lights

Q. Can I control the switch via HomeKit, Alexa or Google Assistant?
A. Yes, all three major voice smart home platforms are supported.
Q. Will the switch work if my internet connection is disabled?
A. Your non-smart lights will still work, but your smart lights require internet connectivity.


Q. Can I dim my lights via the switch?
A. You can trigger a dimming of LIFX to a set level (scene) via the app. Smart & non smart lights won't be dimmable via the Switch.
Q: Can I use the switch to control other smart devices (including smart lights)?
A: At the moment no, but stay tuned!


Q. Can my LIFX switch work with 5Ghz Wi-Fi routers?
A. No the LIFX switch will only work on the 2.4Ghz Wi-FI band. Most home routers that support 5Ghz should also support 2.4Ghz.
For more information on wifi requirements, please see here.
Q. I'm running old Halogen lights. How many can I run from one switch channel?
A. 4 Gang: Each switch channel will support a total of 625W of lighting So 12 x 50W bulbs could be connected to one channel. Simply sum up all the lights on the circuit and make sure it totals under 625W. If you're not absolutely sure, consult an electrician.

A. 2 Gang: Each switch channel will support a total of 1250W of lighting So 25 x 50W bulbs could be connected to one channel. Simply sum up all the lights on the circuit and make sure it totals under 1250W. If you're not absolutely sure, consult an electrician.

Q. I have a 3 gang switch now. Can I replace it with this?
A. Yes, you can, plus you can use the spare button to control other LIFX lights.
Q. Does LIFX switch support 2-way control? 
A. Yes, you can control the lights both with the LIFX Switch and with the LIFX app, as well as any other 3rd party integrations you have. 
(for clarity though conventional 2-way control isn't supported)
Q. Can I set a button to control another light in another room?
A.Yes - the buttons can be programmed to control another LIFX light somewhere else in the home.


Q. Can I set a delay from the Switch to turn the lights off?
A. Yes, if it is a LIFX light only